WHITEPAPER: The Past, Present, and Future of Clinical Data Standards
by
d-Wise Technologies Inc
| January 09, 2013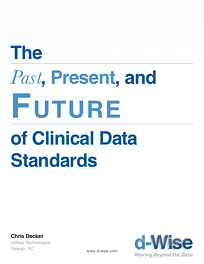 Over the last decade the clinical research industry has attempted to work toward a common data standard with the goal of accelerating the drug development process by improving the data collection, transformation, analysis and submission process.

The adoption of industry wide standards has been slow going and led to a wide range of challenges. Decades of legacy processes and non standard data have led to internal company data standards that are inconsistent and differ wildly from company to company. Within a company there is a many levels of consistency depending on the enforcement of these standards. Across companies the exercise of trying to combine data becomes a bottomless pit of unusable data. Given the issues of drug safety over the last decade, both pharmaceutical companies and the FDA are accelerating the need for data standards across the industry.
This paper will provide a history of clinical data standards, the current state of the union, and one person's peek into how standards might evolve over the next decade. This whitepaper will also discuss the parallel role of SAS in these standards over time.
In the famous story, a Christmas Carol, Ebenezer Scrooge is visited by the ghost of Christmas past, present and future with the hope of showing him the error of his ways and positively changing his future. Using the Christmas Carol story, this paper will describe how the Ghost of Clinical Standards past, present and future can help us change our ways and provide hope for the future.
The Past
Identifying Challenges
Companies Begin to Standardize
CDISC is Born
The Role of SAS

The Present
Inefficiencies of the Regulatory Review Process
Barriers to Adoption
Not a Two Dimensional World
The Role of SAS

The Future
Move to a Three Dimensional World
Continued Adoption of Standards
Crossroads of Clinical Research and Health Records
The Role of SAS


About the Author
d-Wise Technologies Inc