Cloud Hosting
Legacy System Modernization
Blog
PHUSE EU Connect 2020: Statistical Programming Modernization
Cloud Hosting
Legacy System Modernization
by
Sam Warden
| November 20, 2020
Last week, nearly 830 life science leaders convened at PHUSE EU Connect with a hand-on workshop around SCE Modernization as the main event.
This workshop set out to validate a common set of requirements to future-proof Statistical Computing Environments (SCEs). Moderated by d-wise, industry leaders shared their reactions to the recommendations outlined in the SCE Requirements white paper shared prior to the workshop. (Abbvie, Amgen, AstraZeneca, Bayer, Boehringer-Ingelheim, Eli Lilly, GSK, Janssen, Merck, Novartis, Novo Nordisk, Pfizer, Roche, Sanofi and more were represented in the discussions alongside vendors such as SAS and Entimo.) Prior to the collaborative workshop, a survey was sent out to record current SCE Modernization best practices and trends, enhancing discussions with data.
Our team is still analyzing the results of the 129 survey results and are comparing this with feedback received during the live SCE workshops. We will provide the survey results and our stance in a future white paper titled, Aspire: The SCE, Re-Invented, in January.
Make sure to subscribe to our resources or follow us on LinkedIn or Twitter to be among the first to access this paper.
The Virtual SCE Hand-On Workshop
Chris Decker, VP Life Sciences at d-wise, kicked off the session by asking the audience to participate in a reading and thinking exercise. This grounded participants on the objective and purpose of what we are trying to achieve– more time for programmers, statisticians, reviewers, but more importantly for patients' wellbeing.
This exercise ended in a question that embodied the momentum behind the entire workshop: It's time to ask yourself, do you believe in a better way? It's time to come together.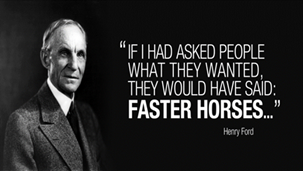 However, Chris cautioned us not to "engineer a faster horse" - referring to a quote attributed to Henry Ford: "If I had asked people what they wanted, they would have said faster horses." In the context of SCEs, this was to encourage the participants to think beyond merely automating what they have always done, and to think of how they should tackle the problem at hand with the latest technology.
This theme of breaking the mould was felt throughout the workshop, as well as a need for collaboration to build the path forward.
Facilitating and Accelerating Submissions Together
With this point to ponder, Sheetal Patel (GSK) and Mark Bynens (Janssen), shared the story behind how they and others pioneered a shared future-proof list of SCE requirements to address the industry's desire to transform how data is exchanged and analyzed for regulatory review.
Vision of Future-Proof Requirement List:
o Drive the requirements of a best-in-class SCE defined by top pharma companies
o Provide business leads and tech business partners with industry-expert recommendations
o Define and develop a common set of SCE tools for adoption by any organization
o A single framework which could be shared with regulatory agencies to facilitate and accelerate submissions
They answered this through a series of review meetings with peers (Sascha Ahrweiler [Bayer], Joseph Rowley [Novartis], Olivier Leconte [J&J], Delyth Jones [GSK], Hoger Dach [Bayer], Jorinne Putter [GSK], Marie-Claude Laramee [Novartis], Mario Lozina [Boehringer Ingelheim], Paul Fioole [J&J], Oliver Richter [Boehringer Ingelheim], Jon-Paul Mewes [Roche], Des Burke [GSK]).
Break-Out Sessions: Aligning, Challenging and Identifying Gaps
With a solid understanding of the intent and purpose of the workshop, attendees were split into 4 break-out sessions. Discussions were lively and identified new areas for exploration and elaboration as well as confirming or adjusting those already in the whitepaper.
Infrastructure and Technologies
In this group, the workshop aimed to validate with technical experts how to set up such a SCE application. The participants were most interested in the white paper providing more information on security requirements as well as on migration paths from legacy platforms.
Automation
The workshop sought to validate with statistical programmers, data scientists, data managers and data engineers the automation potential of such a SCE. The participants suggested a need to describe further details on event-based automation configurable to the organization's workflow. They want to understand requirements for dynamic rather than static reporting and are looking forward to working through how CDISC 360 can drive the automation.
Validation
The validation break-out group invited process managers and validation experts to discuss challenges and opportunities with cloud-based SCEs. The cost of SAS Server licenses and the burden of systems validation was mentioned. Attendees wanted to know how validation documentation can be automated. The break-out group proposed to separate results as data from the displays for QC purposes.
Other Considerations
This group suggested that it is also important to include exploratory or non-submission analysis capabilities (such as RWE, publication, etc). User experience considerations must be better described to support unique sponsor business processes and compliance business processes. A better understanding of regulatory perspectives on this framework was desired.
Review SCE Survey Results
Sam Warden and Ali Dootson of d-wise presented data compiled from the d-wise Market Monitor taxonomy tool and the PHUSE survey completed by 129 individuals from 44 organizations.
One key question discussed was around whether SCE technology should be leveraged as a competitive advantage? 70% of the survey respondents believed that the clinical trial data is the source of competitive advantage and not the technology, which aligned to the SCE Requirements authors' vision to develop a common set of SCE tools for adoption by any organization.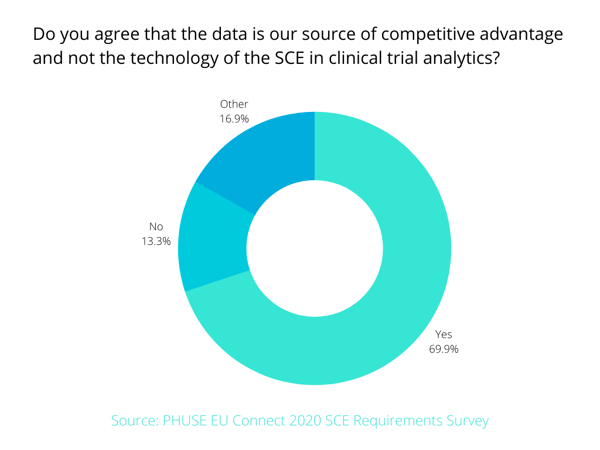 From the Market Monitor, d-wise shared its observation that SCEs are being modernized in episodic cycles almost every 5 years with sponsors stating maintenance resources and lack of flexibility as key drivers to modernize.
In Summary: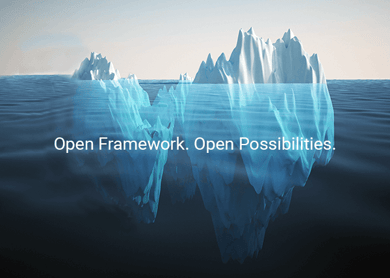 Like an iceberg, the spires of ice are free to grow in different directions but beneath the water, the foundation is common. A vision of a better way forward is possible, and collaboration is the path. By sharing requirements and building upon each other's ideas and by building upon shared common technologies, the opportunity to accelerate clinical trials is clear. This idea is shared by d-wise and was foundational when we began building the Aspire framework, first described in the February 2020 Aspire white paper. Architecture designs for Aspire are aligned with those used in the SCE white paper when illustrating the preferred path for IT architecture and engineering.
Aspire Framework
We at d-wise are honored to be partnering with the sponsors that have chosen to contribute and adopt to Aspire in 2021. Aspire is a controlled and validated framework being built with open components to facilitate iterative innovation and sharing. The premise behind building Aspire is described by Chris Olinger, CTO d-wise, that off-the-shelf or custom-built systems both follow episodic development or deployment cycles, inevitably making them legacy. From decades of experience, we know these legacy systems are difficult and costly to maintain, restricted by SAS, typically are hosted on-premises, and do not allow for the seamless deployment of validated novel technologies.
Since the publication of the Aspire paper, d-wise and its growing list of innovation partners have made tremendous progress. We are excited to be able to begin offering delivery of select components in 2021. If you would like to learn more about Aspire or contribute to its componentry please reach out to info@d-wise.com.