by
John Leveille
| February 25, 2020
The 11th annual SCOPE (Summit for Clinical Ops Execs) summit questioned
the challenges and problems the industry faces and how technology might move forward with new ways to solve them. There was a lot of energy around creating processes and customizing solutions to scale and optimize traditional clinical trials, RWD and virtual trials from a planning and execution standpoint.
One particular speaker and his ideas about scaling for enterprise stood out with the theme, "How do you innovate and accelerate at the same time?" – Craig Serra, Global Head Strategy and Innovation, Data Operations at
Novartis
.
Notably the the presenters commented on the complexity of operating within the pharmaceutical industry, and the risks and responsibilities of handling large data sets containing patient information, worth billions to the enterprise, on top of trying to run the business efficiently. Overwhelmingly the themes of automation and AI were inspected closely, with Demetrius Zambas, VP & Global Head Data Monitoring and Management at
Pfizer
guiding us through the 7-step database build process that step-by-step assesses where automation could occur. The findings from this exercise determined that by replacing or augmenting some steps with automation or AI a large chunk of work could be eliminated and the process' efficiency could be improved. Therefore, it's worthwhile to invest in these sorts of projects.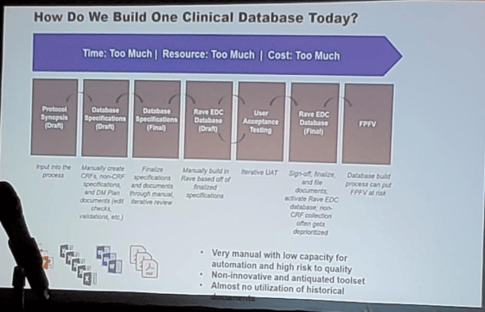 By far our biggest takeaway from the event: Is that it's worthwhile to invest in understanding the client ecosystem and the end-to-end connectedness of all of sponsors data and systems. I highly advocate to my team, partners and clients that it is worthwhile to get out of your own silo and build bridges of connected understanding with other groups that either provide data to you or consume the data you create. Doing so is incredibly valuable for the success of our overall mission in our organizations and ultimately, it's value that accrues to patients because we can operate clinical trials with greater speed and effectiveness because we've gained a broader understanding of how the clinical trial process works.
Finally, real-world data was really well represented as SCOPE, so if your role is in biometrics or bioinformatics and includes ingesting or analyzing real-world data and understanding how to incorporate that with pivotal clinical trial data, this conference would also be of value.
---