Clinical trial statistical computing & the Cloud: Formulating a plan
by
Keith Ward
| July 10, 2017
So you want to take advantage of hosted SAS for managing clinical trial data, but not sure how to go about the transition?

There are many reasons life sciences companies are turning to cloud-based IT systems and solutions. In the context of clinical trials, it's an efficient way to harness SAS-based clinical trial data management, with full assurance that systems are backed up and validated. It's an option with particular appeal to small biotech and pharma firms, or for larger organizations with expanded requirements that can't be met immediately with internal systems – or at least not in the timeframe required.
But how do you migrate to the cloud efficiently? How do you ensure your approach is the right one; that there won't be uncomfortable repercussions down the line? How should you go about vetting cloud providers and technology consultants to ensure ongoing security, reliable back-up and the agility you'll need as you scale your business?
A recent survey of 358 IT and business decision-makers, conducted by THINKstrategies and INetU, found that 43% had experienced a failed or stalled cloud implementation. Of these, nearly half had seen costs overrun relative to their original budgets, two-thirds had to change their cloud environment from the original plan within a year, and more than 50% had to make a change in the first six months. Just 27% of the survey respondents expressed complete satisfaction with their overall cloud migration experience. But, with the right planning, these issues can be avoided. So why migrate to the cloud? What are these promised benefits that everyone is searching for?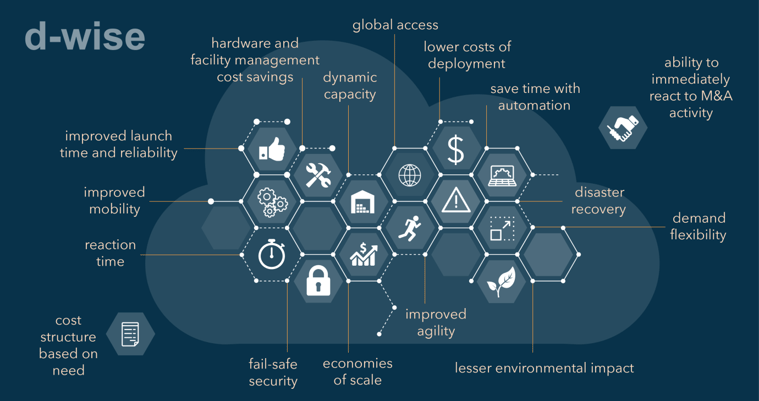 Know where you're aiming
With all of these potential benefits ready for the taking, a first step to planning should be to determine your own primary objectives for making the move to the cloud. When discussing this, it's advisable to involve all of the business users who will benefit or be affected, document their needs, and communicate your hopes and aims clearly.


Identify the right kind of cloud partner
An honest assessment of your needs will enable you to line up the right cloud service. There is no one-size-fits-all cloud service and, with countless providers to choose from, it's important to find one that matches your own particular requirements.
Larger mainstream cloud providers such as Microsoft Azure or Amazon's AWS or may be able to supply thousands of virtual servers in seconds, for instance – which will undoubtedly be very useful if yours is among the organizations that need such a capability. A more specialist provider like d-Wise, with a background in life sciences software and service provision, on the other hand, is more likely to offer a fuller 'white glove' managed service and validation proposition. This may be more appropriate for the more sophisticated requirements of a clinical trial statistical computing environment – and offer all of the associated reassurance you may need.


Seek help from the start
When you entrust an important process to a cloud service provider, you will want to know that they will pay close attention to where and how any problems could occur during and after the migration; how the current state of your statistical computing environment and data may be hampering successful execution; and where scope for performance enhancements might exist as you make the transition to the new cloud service.
A specialty managed service provider like d-Wise could help you determine the scope, capacity requirements and direction for your cloud migration, as well as any current obstacles that might exist in moving your data environment to the cloud - and which could be preventing you from achieving your organisation's goals. Engaging in this process will also help crystallize the vision for all parties, what's involved at a practical level, and what the expected benefits are.
Opting for a cloud provider with relevant domain/vertical market expertise should make it possible to architect your environment before the deployment process, then draw on ongoing managed services – for instance to monitor cloud availability and performance on an ongoing basis, so that the results are in line with expectations.


Don't confuse haste & speed
Finally, note that where cloud deployments do fail to deliver, more often than not it has been due to poor forethought and impatience to get from A to B. Although moving to the cloud offers unprecedented speed of delivery, there are no shortcuts to planning an effective migration. Put in the right groundwork, and the rest should flow smoothly and in good time.