The latest version of the software, Blur CSR (due for release in December), offers enhanced risk management plus new controls for medical writers producing clinical study reports.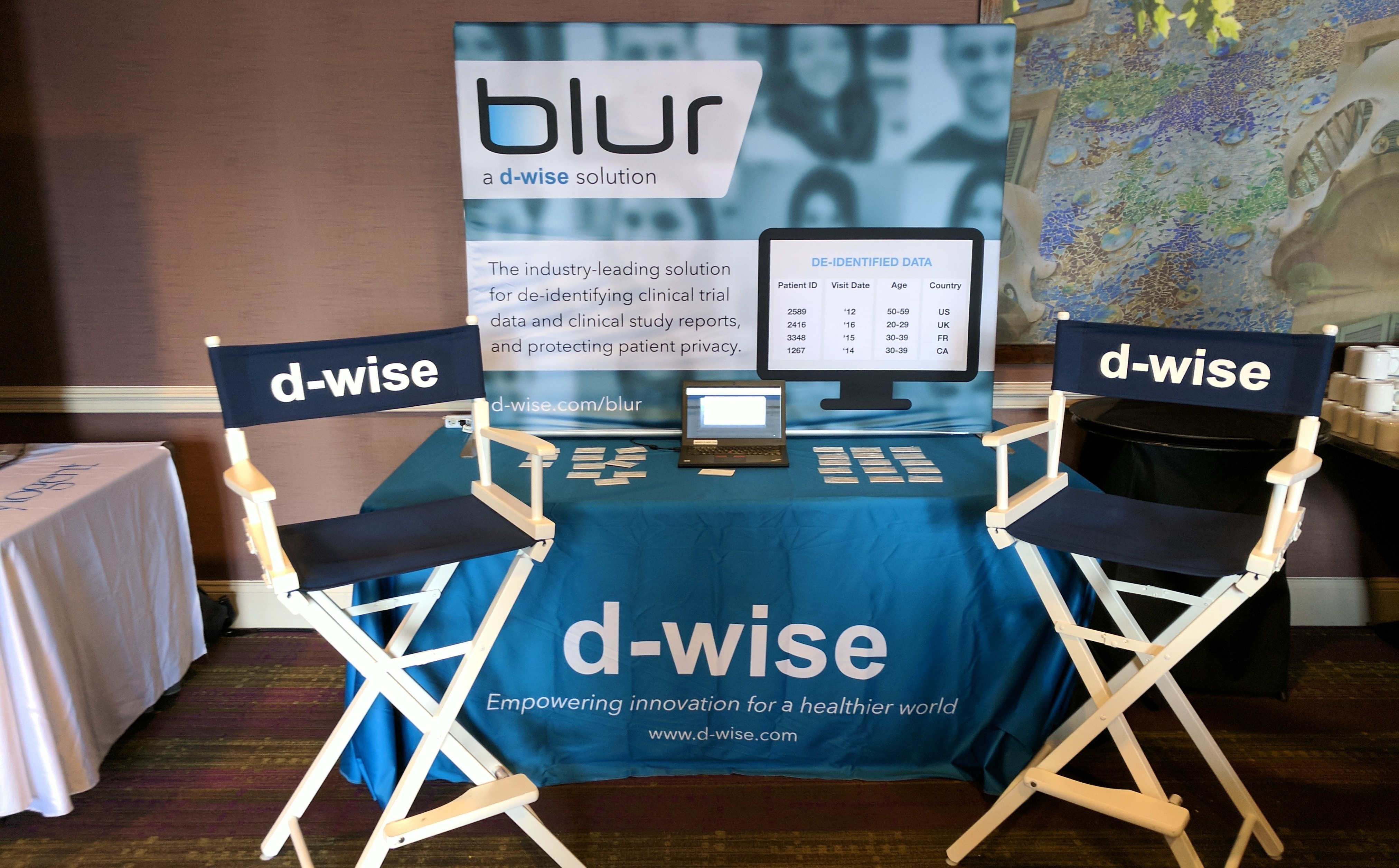 (d-Wise booth at DIA '17)
d-Wise, a leading global technology consultancy and clinical software provider, provided DIA attendees at the DIA Clinical Trial Disclosure and Data Transparency Conference, which took place September 14-15 in Rockville, Maryland, with a first look at powerful new functionality that is included in a new release of its Blur de-identification software due for launch this December.
At the event, senior d-Wise product experts Stephen Baker and Chris Connor were on hand to provide further detail and a walkthrough of all the new features. The enhanced platform, a critical tool for any life sciences firm sharing clinical trial findings externally or internally, will provide sophisticated risk management and robust data anonymization controls for biostatisticians and medical writers who are producing clinical study reports.
Growing vigilance by governments and industry regulators such as the European Medicines Agency (via Policy 0070) are placing increased pressure on life sciences organizations to safeguard the identities of clinical trial subjects, as the outcomes of studies are shared with other research and medical organizations, and the wider market. This, in turn, is increasing the risk faced by those running and reporting on trials. "On the one hand, they must make every reasonable attempt to protect patients' privacy," explains Chris Connor, Senior Life Sciences Consultant at d-Wise. "On the other, they need to preserve the integrity and value of clinical study data by ensuring that the findings remain accurate and meaningful. That's where we come in."
Blur is already an established industry tool for managing clinical trial anonymization at the original 'data' level, so that companies don't have to keep repeating the de-identification process each time they produce a report. But the new, updated platform, due for commercial release in Q4 2017, will provide additional capabilities that give organizations more control over risk management, and provide advanced options for medical writers producing clinical study reports (CSRs).




The risk controls, which include a risk simulation facility, will allow teams to set the de-identification requirements according to patients' potential level of exposure. "For instance, the risk profile will differ between limited internal data sharing between teams, and situations where reports and findings enter the public domain," Mr. Connor notes. "As with a spam filter, you either set the level high where it doesn't let anything past; or adjust this down so that it protects you from the big risks but doesn't interfere with the work you need to do."


For medical writers producing CSRs – a particular focus of EMA, because of these documents' external use - the new enhanced Blur platform will provide features including:
role-based workflow to manage EMA Policy 0070-compliant CSR anonymization;

controls to ensure consistency between the reports and the underlying data;

the ability to review a complete draft before producing the final redacted package.

Crucially, firms using Blur retain complete transparency and traceability over all de-identification activities. This ensures that the richness of the original data is preserved, and that queries arising from disguised content can be addressed readily – all via a validated system with auditable results.
"Our goal with Blur is to systematize transparency across the Policy 0070 compliance lifecycle, accelerate delivery, increase quality, and allow teams to balance risk and confidently share their findings," Connor says.

To see advance highlights of Blur's latest functionality, please visit: http://www.d-wise.com/blur-clinical-trial-data-de-identification
To set up a one-to-one meeting in advance, please contact Keith Ward at Keith.Ward@d-wise.com.