"If you build a Life Science Hub they will come"
by
Keith Ward
| February 14, 2013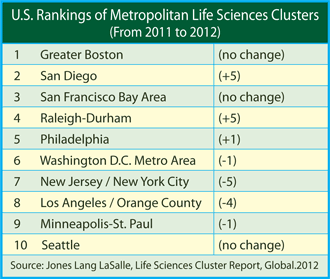 Research-Triangle Area of North Carolina emerging as a major Life Science Hub as it moves to fourth (2011-2012) in US Rankings for Life Sciences Development

According to a report released yesterday, it looks as if d-Wise Technologies a leading provider of data, process and technology optimization services is located in one of the best spots in the country to serve their Life Sciences and Healthcare clients, and it's only supposed to get better.
There has been a steady migration of Life Science manufacturer's exiting the Mid-Atlantic region of New York, New Jersey and Pennsylvania despite reported development activity and demand for partnerships with leading universities and hospitals according to according to the latest annual report from Jones Lang LaSalle, the commercial real estate firm.
With product development globally becoming more costly and difficult, Life Science manufacturers are trying to achieve more with less. Often that discussion comes around to operating costs and location, and the Research Triangle Area of North Carolina offers a lot in the way of research facilities, talent and affordability, not to mention a particularly nice climate!