Healthcare Intelligence: The Challenge of OLAP for Healthcare Data
by
d-Wise Technologies Inc
| January 22, 2013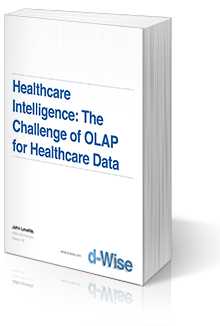 The past decade has seen a steady increase in the adoption of tools to explore aggregated data. During this time the software marketplace has grown to contain many vendors offering similar cube and pivot table technologies. This growth in the software market is naturally correlated with the alignment of business operations, across corporations and across industries, applying these technologies under the guidance of conventional wisdom and standard strategies.

As is often the case, the computer solves the easy problems quite well. We can see this with the application of business intelligence cubes, or Online Analytical Processing (OLAP) technology, to routine business operations. Here income, expenses, inventory, sales are easily added up across lines of business, regions and other groupings. Obviously, there are challenges within this setting, but it presents many simple aggregations that are easily solved by the stock tool set.

In contrast, when attempting to apply OLAP technology to healthcare and pharmaceutical data sources, even the simplest set of data can leave you stymied. How does one add the blood pressure for two patients? What does it mean even if you can aggregate these data? How can you roll up per member per month insurance calculations, adding the dollars spent, but keeping the member count constant?

This paper demonstrates how to use SAS Business Intelligence and PROC OLAP to create a few challenging cubes and enable Healthcare Intelligence.


About the Author
d-Wise Technologies Inc