Case Study: Implementation & Adoption of a Statistical Computing Environment
by
d-Wise Technologies Inc
| January 11, 2013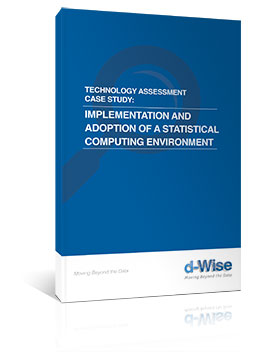 d-Wise Technologies provided consulting services to a leading Pharmaceutical manufacturer to lead and support their implementation of a Statistical Computing Environment (SCE). The company was using SAS Drug Development (SDD) as a compliant data repository and platform for user access to their clinical research data. Enabling this environment included the implementation of new business processes, development of programming standards and programming validation, and the integration of currently used SDD software tools.
The SCE can be defined as "a data repository of source code, input data, and outputs with compliance features such as version-control of SCE elements, reusable programming ability, and links to the clinical data management system." It serves as the foundation for documenting rigor in the analysis and reporting of clinical trial results in a compliant environment while increasing productivity and quality.
d-Wise is recognized as a leader in technology implementation based on their extensive knowledge of the clinical research workflow, the clinical systems architecture, and the integration of SCEs with other clinical systems. d-Wise also understands the significant importance of user experience and change management when implementing technology and process change within an organization, and can provide expertise to spearhead the related tasks involved with technology adoption. The client also recognized that change management was integral to getting the best results from the SCE implementation.
During the initial discussions d-Wise noted these components (but did not limit the scope to only these) as key pieces of the SCE:
Implementation of the SCE with SDD as the core technology

Development of new business processes to optimize the adoption of the SDD within their organization

Integration of existing key software tools with the SCE

Implementation of programming standards, including the implementation of a new model for programming validation

d-Wise worked with the client to develop a preliminary implementation plan broken into four phases including:
About the Author
d-Wise Technologies Inc