Case Study: Reveal Business Case & Pilot
by
d-Wise Technologies Inc
| January 08, 2013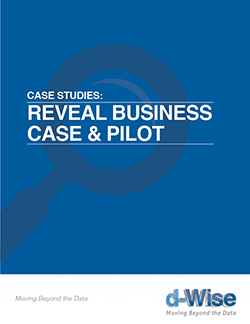 A Reveal Pilot allows your organization to uncover how Reveal can improve your organization's search capability to rapidly find the information you need to make decisions. However, it is very important that a potential Reveal user define their specific needs and requirements for searching, prior to engaging within a Pilot. Knowing well defined success criteria up front will ensure a productive Pilot and a more objective buying decision.
The purpose of this document is to describe Reveal Use Cases as a means to help clients prepare for a Reveal pilot. Clients can use these examples as a baseline to brainstorm and discuss their own clinical data search needs and use cases, and determine which, if implemented, would offer the greatest positive impact and ROI for the company. These discussions can then yield a test plan of Use Cases, and Acceptance Criteria to guide the Pilot test of Reveal.
The use cases described below are not an exhaustive list of how Reveal is used to search clinical data and metadata, but they should provide ideas to support your internal discussions. d-Wise can work with your organization to determine how to best leverage Reveal for your specific needs.
Clinical Search Use Cases
Search Data to Answer Specific Safety Questions

Search Data to Identify Location of Certain Adverse Events

Search Documents to Identify Studies that had a certain inclusion criteria

Standards Search Use Cases
Verify Data Standards compliance

Verify Coding Standards compliance

Identify where non-standard data and variables are used
Administrative Search Use Cases
About the Author
d-Wise Technologies Inc