WHITEPAPER: An Introduction to the Clinical Standards Toolkit
by
d-Wise Technologies Inc
| December 19, 2012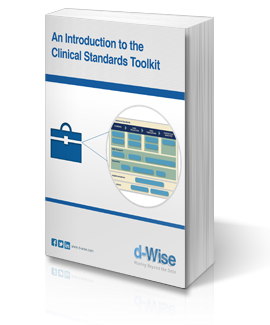 The Clinical Standards Toolkit is an attempt by SAS to build a stable framework for the consistent use of BASE SAS around clinical data standards processes by striking the proper balance between the flexibility of BASE SAS and the needed discipline of process parameter management.

In this whitepaper we will take a tour of the Clinical Standards Toolkit (CST) components and demonstrate the execution of these processes. In the end, users should know not only how to set up programs to achieve these tasks, but also how to manipulate files to make these processes work for their own needs.
The CST Framework
This CST is a highly flexible, parameterized system that gives the user the freedom in de-signing study-specific environments to which they are accustomed. In other words, users are still free to store not only source data, but macros, formats, and other study files wherever they choose.


The SASREFERENCES Data Set
Process parameters such as the location of process files are centrally located in what SAS refers to as a Sasreferences data set , which is referred to throughout this whitepaper as SASREFERENCES, which is often used as the name of the data set.


Files Related to the Registration Of Standards
In this whitepaper we will go into depth about the following elements:
Metadata
Messages
Properties
Macros
Validation Control
Directories that represent standards that support validation such as the SAS-installed SDTM standard contain a Validation directory, which in turn contains a Control directory.
Registrating a Standard
Regardless of how much customization is required, the standards files that SAS gives to us at installation are always a good place to start to build our standard. For that reason, a good first step is to create a directory somewhere within the installed Standards directory for each standard you're creating.
Preparing a Study: Certain checks require certain files to be in place
SDTM Data

Formats

External Dictionaries

Metadata

Key Takeaway
Opportunity still exists for programmers to slip outside of the process, but with proper foresight and management of central files, this can be kept to a minimum. Download the entire whitepaper for more information on the Clinical Standards Toolkit.

About the Author
d-Wise Technologies Inc