The Industry Leading
De-Identification Solution
Clinical Trial Data De-Identification with Blur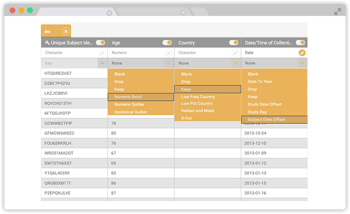 The industry-leading solution for delivering de-identified clinical trial data and protecting patient privacy.
Reduce the cost and effort of
de-identification
Deliver high-quality de-identified clinical trial data to your internal and external collaborators at lower cost and 70% faster than any other approach available today.
Blur includes features such as:
Integrated Workflows
Templates that improve efficiency
Automated Transitions
Automated CDISC Standards Delivery
No data preparation required
and more!
Are you a clinical trial expert? So is Blur.
Blur understands clinical trial data structures, workflow and industry de-identification rules. Using Blur, you'll be able to meet the regulatory and ethical challenges associated with re-purposing clinical trial data assets for secondary use, preserving data utility and documenting traceability for downstream data consumers.
Have questions about Blur? Please fill out the form to the right and we'd be happy to discuss your de-identification options.