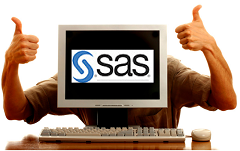 SAS is a critical tool within the clinical trials business process, and many programming and biostatistical teams have become proficient in delivering high quality SAS work. Libraries of macros have been developed. Best practices have been deployed. But, in many ways, the hands-on work of SAS coding has plateaued in terms of efficiency. It may appear that the only way to obtain more SAS throughput is with more SAS programmers, but that's not the case. There are still cost and productivity efficiencies to be found for those organizations willing to modernize their SAS infrastructure.
Significant efficiencies can be found in straightforward SAS performance improvements. For SAS programmers, the cycle of develop, execute and test may be repeated hundreds of times a day. Every time a SAS program is submitted, there is a period of time where the programmer is largely idle as the program chugs to completion. This idle time is compounded over thousands of SAS submissions company-wide during the course of the day. Faster SAS processing time can reduce idle time and increase productivity, but the answer isn't as simple as a faster PC or server. That's a stopgap measure rather than a sustainable and scalable modernization strategy.
At the same time, companies engaged in clinical research are using SAS releases that are generations behind the most current release of SAS that is available. That's unfortunate, because these organizations are paying for new capabilities that are gathering dust on a virtual shelf. SAS' licensing terms typically entitle companies to install the latest and greatest version of SAS at no additional cost. If your team isn't actively using the latest release, which can mean faster internal processing (beyond what new hardware could provide), new capabilities and overall improvements, then you're not getting the full value out of your SAS investment.
The biggest obstacle to leveraging this existing investment in SAS is the burden associated with installing and validating the new software. If your team is working on PC's, that means visiting each and every PC and performing the installation and validation processes are required. If you're on a server, that means provisioning a server for validation purposes, doing the installation and testing, and then ultimately making the release available on the production system. Burden may be an understatement in either of these cases.
The productivity being lost to idle time as SAS programs execute, as well as the license costs being wasted due to implementation and validation obstacles, are exactly the opposite of what SAS programming teams need during this era of critical deadlines and reduced budgets.
There is an alternative. SAS Grid Manager combines performance with streamlined maintenance, installation and validation. With the burden of SAS maintenance dramatically reduced, new SAS hotfixes, patches and major releases will move from shelfware to active use much more rapidly. As a SAS programmer or biostatistician, that means access to not only the latest and greatest that SAS has to offer, but reduced idle time through the improved performance that SAS Grid can provide. And, over time, the SAS grid is easy to scale as processing needs continue to grow.
Why settle for anything else?
d-Wise, a global technology consulting company focused on the life sciences and healthcare industries, will be presenting a Webinar on October 7th entitled, "Modernizing Your Existing SAS Clinical Trials Environment with SAS Grid Manager" where we'll give you the resources to decide if your organization will benefit by implementing SAS Grid. We'll cover everything from what SAS Grid is, how you can migrate from your current SAS environment, how it has been done successfully at multiple life sciences companies and CRO's, to how it will deliver increased productivity for your organization and how the value gained from a SAS Grid implementation far exceeds the cost. We'll also tell you a bit about how d-Wise can assess your SAS Grid readiness, the business process changes to be expected and everything we think is pertinent to a successful implementation.
So, why not Register today, and share this registration with your IT Group and SAS Administrators (https://attendee.gotowebinar.com/register/4215153008593559809) so that they can also learn how SAS Grid can improve services to their internal SAS customers – while making administration easier.
d-Wise is poised to be the partner and your experienced guide for these complex, yet necessary, modernization journeys. With a proven assessment, optimization process, and seamless implementation, d-Wise will turn organizational obstacles into modernization successes – all tailored specifically to meet the critical needs of your life science organization.
Find out more about d-Wise and our capabilities by downloading our thought leadership collateral below:
---