d-Wise demonstrated their core value at FDA Computational Science Symposium with "Innovative Solutions to Complex Problems" and "Value Focus".
In Mid March, d-Wise participated in an annual event, The Annual Computational Science Symposium in Silver Spring, MD. The goal of this initiative is to identify issues/gaps in the drug development and review process and work collaboratively on solutions. The event brings together Academia, Regulators, Industry and technology providers to address computational science needs in support of regulatory review and ultimately bring safe and effective products to those who need them.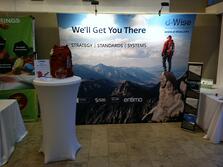 The focus of the Annual Computational Science Symposium is to continue the work initiated at the previous annual meetings by bringing FDA, industry and academia together to provide an update on current initiatives ongoing within the FDA, explore emerging technologies and establish collaborative working groups to address current challenges related to the access and review of data to support product development. Previous work has included the creation of a Study Data Reviewer's Guide Template for submission, development of a non-clinical road map and the application of semantics technology to standards.
Working Groups
Since the 2013 CSS, the projects within the working groups have been meeting, collaborating and delivering valuable outputs as part of their objectives. Over the past year, the Working Groups have successfully delivered on a number of their goals to better support industry and FDA. Below are some of those successful projects.
Study Data Reviewer's Guide (SDRG) – A standardized template providing best practices and recommendations for information needed within a submission
Gap Analysis of Site Select Data Elements – A summary of the gaps between data elements needed for reviewing site selection and the CDISC standards provided to CDISC for incorporation in standards development
PhUSE Google Code Repository – Central and open repository for sharing any kind of code for common clinical data transformation and analysis
The Release of First Standard Analysis White Paper – Released a white paper on Standard Analyses and Displays Associated with Measures of Central Tendency
Delivery of CDISC Standards in RDF – Implementation of the CDISC standards within RDF, a robust model for standards development and system interoperability.
Three Life Science Consultants from d-Wise made significant contributions to this effort.
Mike Molter stepped up to co-lead a project exploring best practices for standards implementation
Ian Fleming initiated and is co-leading a new project around the development of an analysis results model, and he is planning on presenting this idea as part of thecathal PhUSE project within the FDA Innovation Forum
Cathal Gallagher, a new addition to d-Wise from our acquisition of Dootsonic, attending his first event in the US, developed a great poster on using modularized code and an ETL tool to reduce programming. Out of the 25+ posters he won best overall poster!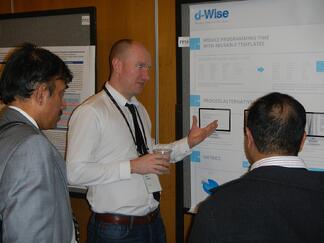 For a FREE copy of this poster, and to learn more about how you can reduce your programming time, contact sales@d-wise.com
Also, be sure to see d-Wise (Booth #8) at this weeks CDISC Europe Interchange 2014 event in Paris.