When Cathal Gallagher proposed his poster for the PhUSE Computational Science Symposium (CSS), even his colleagues here at d-Wise were skeptical. The industry has been pursuing data transformation processes and technologies for many years. While progress has certainly been made, reducing the effort for delivering CDISC SDTM and ADaM data tables by more than 90% is a very big stake to place in the ground. But that's just what Cathal was able to do, and along the way he also took home the Best Poster award at the PhUSE conference.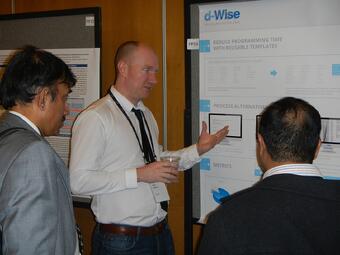 Cathal Gallagher, from d-Wise, discusses his award-winning poster at the PhUSE CSS conference.»
SAS Clinical Data Integration Enables Efficiencies
Loading data warehouses and data marts, building analytical marts for special projects, and creating extract files for reporting and analysis applications consumes limited IT resources, leaving them with little or no time for strategic initiatives. SAS Clinical Data Integration provides an intuitive point­-and­-click approach that helps users to easily build logical process workflows, quickly identify the input and output data stores, and create business rules in metadata – enabling rapid generation of data warehouses, data marts and data streams. Additionally, SAS Clinical Data Integration also provides a shared metadata environment that is both independent (for data integration) and part of SAS' comprehensive platform. Technical, business, process and administrative metadata is stored and managed in a way that facilitates reuse of existing table definitions, business rules and more. Shared metadata provides a consistent definition across data sources to speed integration projects, simplify design and reduce maintenance costs.
Reducing the Effort by More Than 90%
In this situation, the reusable content is deployed as templates within SAS Clinical Data Integration, and it is these validated templates that result in the work reduction. For example, using more traditional SAS programming to create the Demographics (DM) domain requires individually programming 26 variables. By using the validated template created within SAS Clinical Data Integration, only 4 variables need individual programming. Re-useable validated code already exists to create the other 22 variables.
The effort to create these few remaining 4 variables is reduced even further by the process diagramming interface within SAS Clinical Data Integration. When using traditional SAS code to accomplish this task, users have to read and understand the code (possibly someone else's code) in order to develop the necessary new transformations and insert it into the process. With the point-and-click interface SAS Clinical Data Integration provides, users can easily visualize where the tables join and see the best places to make the necessary edits. With the defined template, developing and deploying the transformation code for these 4 additional variables is simple and straightforward.
Across an entire study, the savings from creating each individual domain quickly add up. For Cathal's customer project, the initial work effort was originally estimated as over 3600 hours of traditional SAS programming work to repeatedly deliver validated CDISC SDTM and ADaM tables using traditional SAS programming techniques. In practice, when SAS Clinical Data Integration was used, the same project was accomplished in just 400 hours! This represents an efficiency gain of almost 90percent and results in obvious time and expense reductions.
Within the d-Wise Life Sciences Practice, the Standards Implementation Team is prepared to help your organization achieve similar improvements in efficiency and reductions in cost. The team understands the CDISC models, how to leverage SAS Clinical Data Integration and will help your company implement and optimize SAS Clinical Data Integration for your business.
This implementation work can include:
Definition of a strategic roadmap for your implementation

Installation, configuration, and customization of the solution

Customization of the metadata and transformations to support your process

Workshops to share best practices with your user group


For a FREE copy of this poster, or to learn more about how you can dramatically reduce your CDISC delivery time, contact sales@d-wise.com.